STANDARD - THE ORIGINAL TRIATHLON
We call this the original triathlon. It's what the pro's do when they compete at the Olympics as well as the race distance for Sunday's ITU World Triathlon Series event. This is your chance to race like the stars in the very heart of Leeds.
The standard distance event in 2019 also plays host to the British Standard Distance Triathlon Championships, meaning the best of British age-group talent will be competing to be the first to cross the iconic blue carpet finish in Millennium Square. The British Triathlon Championship Events do attract more experienced triathletes with an opportunity to qualify for the Great Britain Age-Group team, but don't worry though, if you're a first timer or new to the sport, regardless of whether you enter the Sprint or Standard distance events, the open races are set to be a fun and accessible event for all abilities. Rest assured that there will be plenty of other triathletes of a similar ability to you taking part.

Date, Time & Location:
Sunday 9 June 2019, Roundhay Park - Leeds City Centre
N.B. Registration and bike racking takes places on Saturday 8 June, unless you purchase a priority pass during entry.
Distance:
1500m swim, 36.2km bike, 10km run (Relay option available)
Download 2018 PDF Map (Route and distances subject to change for 2019)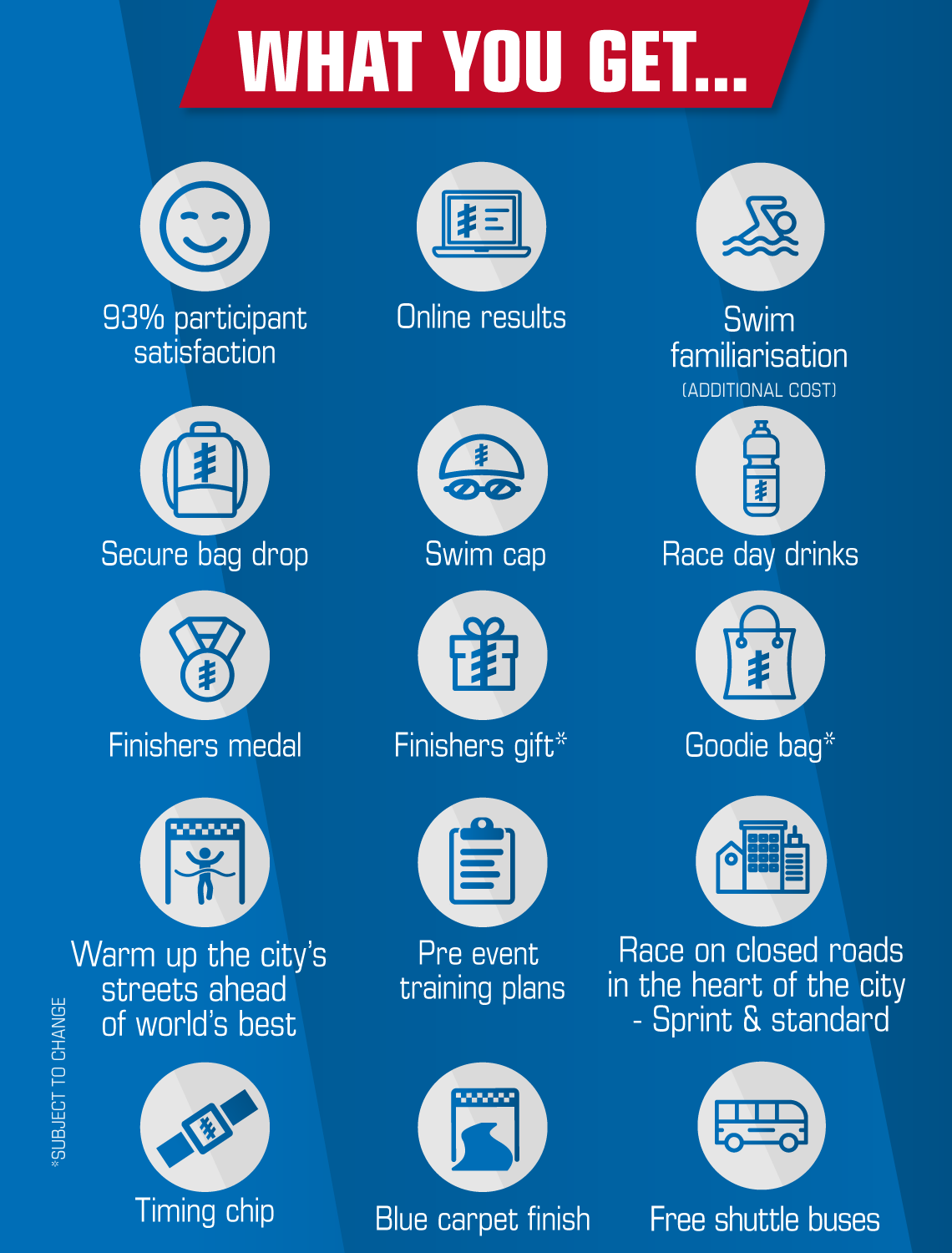 Who can take part?
You must be 17 or over to take part (on the 31st Dec 2019). It is compulsory to wear a wetsuit, and you will need a road worthy bike though this doesn't need to be a fancy one! You can get advice on hiring both a wetsuit and a bike from the event organisers if you need to.

The AJ Bell World Triathlon Leeds and Accenture World Triathlon Mixed Relay Nottingham are the first officially SH2OUT accredited triathlon events, meaning that the safety of the open water swim is at the highest recognised level possible. Prior to taking part in your event, please make sure you have taken reasonable steps to prepare. Look out for additional open water swimming tips from SH2OUT.
SH2OUT is a partnership between British Triathlon and the Royal Life Saving Society (RLSS UK) providing appropriate support to the development of standards that ensure a safe and compelling open water swimming experiences for all participants.

*All event entry prices displayed are subject to additional ACTIVE fees.
*A British Triathlon Day License must be purchased with entry for race insurance where a individual(s) entering do not hold a British Triathlon Home Nation Membership.
Find out more about the difference in entry windows pricing structure across all events here.